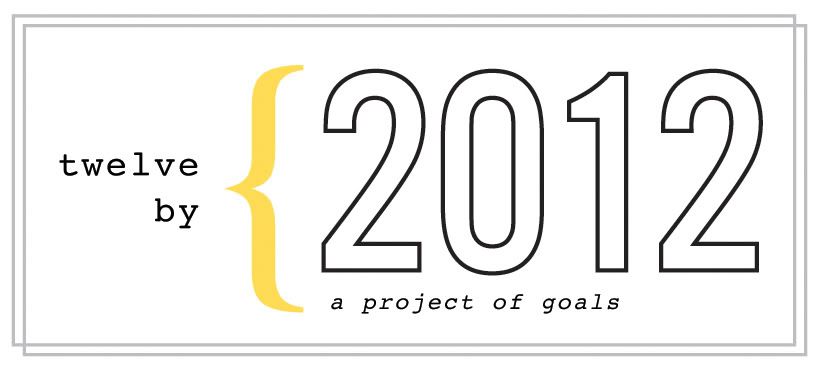 Danni (of oh, hello friend) has a posed a great challenge of doing 12 things before 2012. With just about 12 weeks to go, I think it's a great idea to set some shorter term goals. My list is mostly things that have been nagging at me and that I always mean to do, but somehow they never actually get done. Maybe I'll try and take pictures of it all... but that would probably be #13 on the list...
Updated Feb 08, 2012
1. Finish my office (hang shelf and sconces, put doors on cabinet, hang art) (shelf and sconces up! The lights make a HUGE difference! Art is up! Decided against doors on the cabinet as they are $90 bucks a piece... oh well)


2. Find a shade for bedroom lamp and hang bedroom curtains (lampshade found for $1.50 in the IKEA "as is" section–score!! ...curtains still aren't up)


4. Cash in credit card points for something fun (gonna keep saving for 6,000 more points)


5. Go to NYC, see #4 (done!!)


6. Run 250 miles (approx 20 miles a week... I was doing this easily until life got crazy a couple weeks ago and I fell off the bandwagon) (finished with 2 days to spare!)


7. Cut all the pieces for the
quilt along challenge
my mom and I are going to do
(decided to do this tutorial instead, done! Now I just need to start sewing since it's all over my living room floor)
8.
Make a bag
for my yoga mat (so it can sit in my closet in style)
10. Finish archiving all my old computer files–don't want those old crusty files moved onto my new machine (I have everything on a hard drive, but haven't burned discs of pictures and really important stuff...soon).


11. Send Xmas cards now that I'm a big-girl-homeowner (Opted for New Years cards, but they were custom designed and sent by the end of the first week in Jan, hooray!)


12. Do some fun freelance design: participate in Halloween and Xmas poster shows. Design STDs for a friend's wedding. (Halloween, check! Xmas, check! New Years card, check! Save the Dates, check! Valentine poster, check! I'm on a roll!)